Ikedaya Yasubei Shoten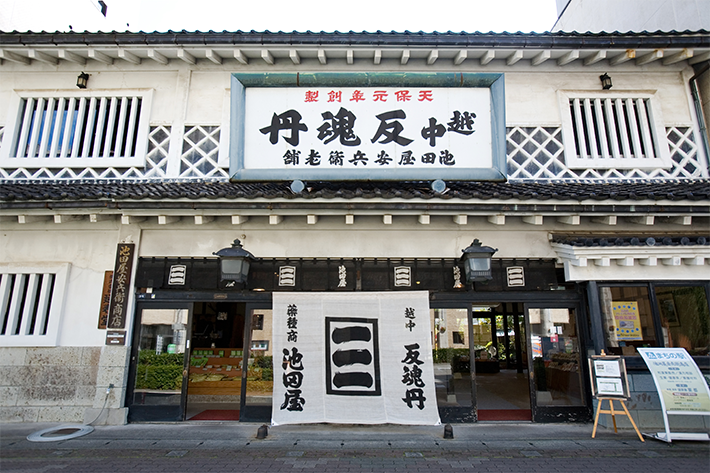 Ikedaya Yasubei Shoten is established in 1936. Minoru Ikeda started as Oriental medicines dealer. Soon after World War 2, we started to manufacture and distribute the "Hangontan," the medicine which had been a dominant influence in Edo era. We are still pursuing in Oriental medicines field focusing on Japanese traditional medicines.
Zauri Japanese traditional style of selling by counseling
Please feel free to contact us.
Oriental medicines are prescribed for each person, considering not only their symptom but also physical strength and condition. That's why we think it is the most important to provide counseling to customers.
Our pharmacists compound each medicine by choosing from more than 20 kinds of our herbal products and 200 kinds of herbs. Each medicine is appropriate for each customer's symptom. Please feel free to contact us.
Seizoutaiken
You can try your hand at making the traditional pills!
Step inside and you'll be greeted by a fragrance of traditional medicine that can only be found in old shops. Rare golden shop sign and old tools are exhibited in the shop.
You can try your hand at making your own traditional Toyama pills, and our shop is the only place in Japan you can do that!
Hangontan
Hangontan is a representable medicine of Toyama which was started producing in Edo period (late 17th century). This medicine is made from effectively combined crude drugs. It works on gastrointestinal disorder from stressful life, some symptoms from excessive drinking and eating, indigestion, and so on.
For the person who
・feels heavy on your stomach because of oily meals
・often drinks alcohol
・often gets a hangover
・has a stomachache due to stress
Effects: lack of appetite, sensation of distention, indigestion, stomach disorder, excessive drinking and eating, heartburn, feeling heavy on stomach, nausea (from hangover or sick from drinking), vomiting, and so on
10 pills/time, 3 times a day, ¥650~6,000
Shop information
Our shop is a Japanese traditional building which was used as a warehouse of crude drugs and a living space. We renovated it into well-style shop. It is one of the oldest wooden buildings in the central urban part of Toyama.
Access IKEDAYA YASUBEI SHOUTEN
Address
1-3-5 Tsutsumichodori,Toyama City Toyama,Japan
Access
By Air plane
15 min by car from Toyama airport
By tram
3min walk from Nishicho station (Toyama Local Railway)
By Car
5 min from JR Toyama station
10 min from the Toyama Interchange on the Hokuriku Expressway
Open
9:00 a.m. to 6:00 p.m. (Yakuto 11:30 a.m. to 2:00 p.m.)
Fixed holiday
Open seven days a week (Except year-end and new-year)
Tel 076-425-1871
Fax 076-491-1698
YAKUTO Would you like healthy meals KENKOZEN at YAKUTO?
A restaurant "YAKUTO" on the 2nd floor serves delicious cuisine made with medicinal herbs. You can have prix fixe meal, including Okowa (steamed glutinous rice) made of ancient rice, Korean ginseng soup. You can also have wild herbal tea, ice cream, and so on. Enjoy our specialties and relaxed atmosphere. Of course, these meals don't contain chemical seasonings or preservatives at all.
Healthy meal restaurant YAKUTO
Tel 076-425-1873
Open 11:30 a.m. to 2:00 p.m.
Fixed holiday Wednesdays, year-end and new-year
Toyama-Bussankan Local Food Production and Consumption
The shop 'Toyama-Bussankan" sells local products in Toyama.
You can get carefully selected items, which were produced by certain and reliable growers or producers.
Toyama-Bussankan
Tel 076-425-1871
Open 9:00 a.m. to 5:00 p.m.
Fixed holiday Open seven days a week (Except year-end and new-year)